L'ALPE D'HUEZ Bike Rental - SARENNE SPORTS BIKE Electric Bike Hire - Elctric MTB, Enduro MTB online booking
SARENNE SPORTS BIKE - L'ALPE D'HUEZ - HOME
L'ALPE D'HUEZ Bike Rental - SARENNE SPORTS BIKE Bike Hire : book your Electric Mountain bike equipment online ! You will have the best prices : up to 0% off on your equipment.
HOME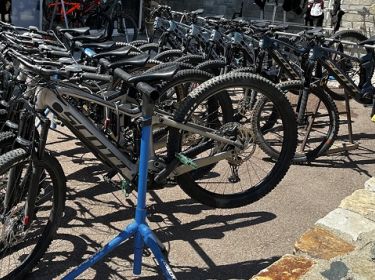 Welcome to SARENNE SPORTS BIKE - L'ALPE D'HUEZ
Specialist in the rental of Cross Country mountain bikes, Enduro mountain bikes, mountain bikes for children and electric mountain bikes as well as the sale of technical products for cycling on L'ALPE D'HUEZ
From beginner to expert, we have a wide choice of equipment selected from the biggest brands, suitable for all levels of practice.
Our perfectly maintained bike park is renewed regularly.
Choice, advice, professionalism, our team will share with you their passion for two wheels and will guide you for the rental of your equipment.
See you soon in L'ALPE D'HUEZ,
SARENNE SPORTS BIKE team

Electric mountain bike rental
New sensations with these Enduro & Cross Country mountain bikes equipped with electric assistance! fun on any path...

Cross country mountain bike rental
Discover the trails of the area with these cross country bikes (hiking), accessible to all.

Enduro mountain bike rental
ALL MOUNTAIN... travel, engagement and lots of fun!

Junior mountain bike rental
In the footsteps of the greatest... with bikes designed for the mountains, big tires, disc brakes, top-of-the-range equipment suitable for children.


Secure Payment
Information? Contact us...
04 76 80 44 76
33 Rue du Pic Blanc
38750 L'ALPE D'HUEZ