RESORT INFO - SARENNE SPORTS BIKE - L'ALPE D'HUEZ : Webcams, Weather...
SARENNE SPORTS BIKE - L'ALPE D'HUEZ - RESORT INFO
RESORT INFO - SARENNE SPORTS BIKE - L'ALPE D'HUEZ : Webcams, Weather. Any information on the resort of L'ALPE D'HUEZ: Discovery, history, summer sports, champions, gastronomy...
RESORT INFO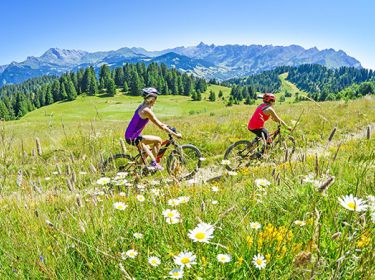 Since 1936, Alpe d'Huez has expanded at an altitude of 6,100 ft on the Grandes Rousses Massif. Pic Blanc, the highest point of this massif at 10,922 ft, has a panoramic view awarded three stars in the Michelin Guide. You can see many miles over the Ecrins National Park and its prestigious peaks:
Le Rateau, La Meije, La Muzelle, Les Aiguilles d'Arves, the Belledonne mountains and Mont Blanc, a landscape covering almost one fifth of France, from Italy to the Massif Central.
Alpe d'Huez, also called "The Island in the Sunshine", enjoys long periods of sunshine (an average of 300 sunny days a year).
Located only an hour from Grenoble , and less than 5 hours from Paris, Alpe d'Huez is a multiple activity resort to enjoy with family and friends.
The neighboring vilages of of Auris-en-Oisans, Huez-en-Oisans, La Garde, Oz-en-Oisans, Vaujany and Villard Reculas maintain mountain traditions, and the roots of the real mountain dwellers can still be found there.
Country practices are still alive with the "transhumances",or seasonal migrations of 1000 cows and 2000 sheep from neighbouring valleys grazing on the 3486 acres that become ski runs in the winter.
The "d'Huizats" (Huez inhabitants) have always taken their flocks and herds to graze on these alpine meadows, thus giving a name to the resort : the "Alpe" of the village of Huez.
Grazing is particularly useful in keeping the ski area in good condition. In keeping the grass short, they prevent the build-up of long grass, which can contribute to avalanches during the heavy snowfalls.
Rich in many sporting (walking, flying, cycling, horse riding, etc.), cultural and relaxing activities, Alpe d'Huez is also the scene of strong events throughout the summer!


Secure Payment
Information? Contact us...
04 76 80 44 76
33 Rue du Pic Blanc
38750 L'ALPE D'HUEZ